"Safety is our Standard"
If there is one word that ties together the entire 100 year history of Ericson Manufacturing, that word is "safety." From Edward Oscar Ericson's patent for the first rubber hand lamp in 1918 to the Smart MonitorTM devices, GWO PDU's, and LED Linear String Lights of today the common thread throughout is our desire to keep workers safe.
That is our base. That is our standard. Nothing leaves our production floor in Willoughby, Ohio if it does not make a job site safer.
But, of course, we are much more than that. As a company, Ericson has been innovating electrical safety products from the very start offering key benefits like ease of use, product durability, and, of course, the superior safety that our products are known for. We also listen to our customers better than any of our competitors and offer custom engineered solutions to fit the exact needs of an application. We listen, we act, we innovate.
Keeping this all in mind, we felt that now - in our 100th year in business - was the best time to move the company forward from a branding perspective as well. I'm happy to unveil our new company logo and tagline and a special 100-year anniversary logo.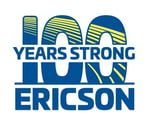 We are excited for what the future holds for Ericson. We remain committed to being the absolute best at what we do, not just because it's a good business practice, but because it is what YOU deserve.
A lot can change in 100 years, but Ericson's commitment to manufacturing the best electrical safety products in the marketplace never has and never will. Here's to the next 100 years!