How many times has it happened to you? You send a power distribution unit out on a job and it comes back broken. Or, you install a unit, it fails on site, and your work crews are out of power.
Not just a hassle, it also affects your bottom line. The average repair of a spider box is $70. Multiply this over the lifetime of the unit and it adds up fast. Plus, there is lost productivity as workers are idled during an outage.
So how do you fix this?
Easy. Get rid of the two main points of failure.
Fix # 1 – Eliminate plastic parts
The part most likely to fail on a PDU is any plastic part, mainly flip lids. Due to handling or repeated opening and closing those plastic parts often get twisted off or cracked. The flip lids will need to be replaced in order to maintain the safety from water egress that it was designed for. What's stronger than plastic? Metal. So the first thing you can do to fix breaking PDUs is to find an all-steel design.
Fix # 2 – Eliminate high failure rate modules
The second most likely part to fail, but most expensive, is the GFCI module next to the receptacle. These modules take a beating. Often poked by screw drivers or just plain burnt up, these fail often, leaving you with an inoperable PDU and no replacement parts as these need to be ordered from the vendor. A fix for this is to use a PDU that features standard GFCI receptacles that have low failure rate, are off-the-shelf, and easy to source and replace. This will save you time, headaches, and (most importantly) money.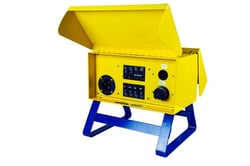 Ericson offers a line of 50 to 200 amp PDU's that fix these two issues. Visit www.ericson.com, or call 800-ERICSON for more information on the Compact 50 amp PDU and 60-200 amp 2 wheel cart models.