As Ericson Manufacturing celebrates its 100 year anniversary, we will occasionally share a bit of our history throughout the year.
---
Sixty cents. That's what it would have cost in 1918 to purchase one of the first insulating Rubber Handles for one of your Extension Lights, or Drop Lights as they were called in those days.
The C & E Universal Safety Handle was molded out of a heavy duty rubber compound and was designed for use with either keyed or keyless sockets. This would protect workers from electrical shocks and to add to the service life of the lights. At that point, many lamp guards were made of wood, which proved too fragile to withstand the many industrial uses to which they were put.
C & E was the forerunner of today's Ericson Manufacturing Co., founded by Edward O. Ericson. Mr. Ericson pioneered the development of a variety of important safety electrical devices. He devoted his attention to industrial applications. There was a great need for safer products for workers using electricity. Simple, molded rubber hand lamp handles (which he had patented in 1918) gave way to more sophisticated designs made of a variety of materials, each providing increasingly better electrical safety, durability and price advantages.
Ericson also pioneered in this area, and in 1927 introduced the first insulated hand lamp guards. The basic guard included a 1/16-in. thick - bonded insulation coating of the "toughest kind of rubber" . It could withstand dielectric tests of more than 4,000 volts! They provided a high degree of electrical safety and added to a lamp's service life under the roughest conditions.
Ericson's invention of the first "Dead-Front, Back-Wired" Electrical Plug in 1929 is perhaps the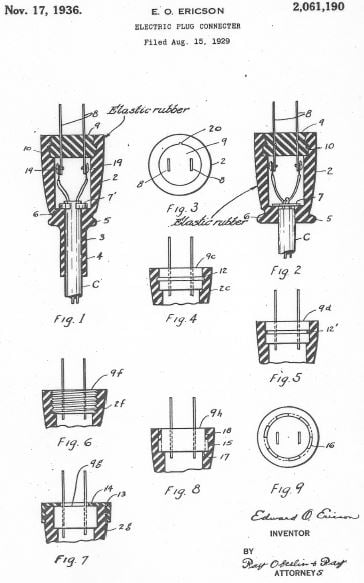 single most important development in the wiring device industry in the past 70+ years. U.S. Patent # 2,061,190 was assigned to it in 1936.
Older plugs and connectors had the wiring come through from the back. They were wired in the front end where the connections were visible and were susceptible to damage from moisture, dirt, tools, etc. (Fiber discs, and later plastic discs, were used to cover these wiring areas, but they often came off during use.) The Ericson "Dead-Front, Back-Wired" design placed the wiring connections at the rear of the plug with the front end closed off by a structural member of the device. The blades were held firmly and permanently in alignment.
There were no rivets to loosen or fiber to warp. Connections on the inside were protected. Cord grips kept tension off the terminals. Flexible shanks took the wear off the cord. They were easy to wire in the field. Newer variations are now even quicker and easier to wire: the stripped wires are inserted in holes, where simple screw tightening secures them in place.
Many products available today reach beyond being simple plugs or connectors. They are all, however, dead-front, back-wired devices. Our Perma-Tite® 2 Plugs and Connectors have unique features to protect the internals from moisture, dust and dirt. And covers using new, high tech materials resist chemicals, acids and oils to provide greater service life in extremely hazardous environments.
Ericson's industrial wiring device innovations revolutionized electrical safety. Ericson's Perma-Watch® Plugs and Connectors have built-in ground and continuity monitor devices to help workers determine at a glance whether their electrical power source's grounding system in safe. The GCM's have internal LED lamps that glow when the line has ground continuity. These devices also can help cut as much as 90% of the cost of maintaining OSHA required records for extension cord sets and temporary job site receptacles. Ericson's dead-front, back-wired 1929 design is important: both the National Electrical Code and OSHA still require its use.