It's no secret that cutting costs is a goal for so many people on a job site. Not only do you want the job done well, you want it done at as low a price point as possible. So you search for the equipment with the specs that you need at a price point that seems reasonable.
This is nothing new. Everybody does it.
But you also have to be very careful not to cut corners in ways that could actually COST you money down the road. Buying equipment that is not made for the long haul or, even worse, can fail and cause damage to other equipment will set you back.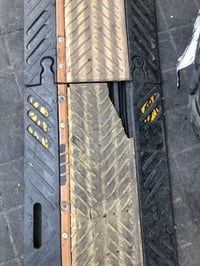 One of the places where project/plant managers feel they can save money is on cable and hose protection.
"They're all the same, right?"
Not so much.
Cable and hose protection that can't stand up to the rigors of a heavy industrial work site will crack over time exposing the wires and hoses you are trying to protect. This can lead to damage of those components which in turn could damage other equipment or worse, injure employees.
Ericson's TuffTraxx cable and hose protection has independently tested and verified load ratings that exceed 50,000 pounds per axle. On top of that, TuffTraxx delivers NEC compliant cable protection minimizing costly downtime and equipment repair costs. Made with durable, all-weather polyurethane, TuffTraxx provides a safe OSHA compliant, non-conductive shock barrier protecting against pedestrian trip hazards and injury and comes with a lifetime warranty.
Be certain you are protecting your people and equipment with the very best.