Need to keep your nuclear power plant outage on track? With the average outage falling from 80 days in 1997, to 34 in 2017, keeping a tight schedule means thorough planning beforehand- sometimes months or years in advance.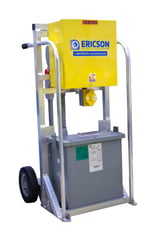 With an influx of workers around the facility, they will often be working in areas that don't have a power source for their tools and lighting. That's where portable power distribution comes to the rescue. By deciding what portable power products you would need before the outage, you can streamline activities during the project. Equipment needs can range from simple cables or off the shelf power distribution units, to extremely complex equipment carts, which have incoming power attachment points and isolation (disconnect) capabilities, plus voltage step down transformers and specific output receptacle types.
Step 1: Get the lay of the land
To get started, first compile a list of the number of job sites, what equipment they will be using, and how that would drive power distribution equipment requirements. Use the chart below to summarize.
Equipment Requirements
Item
Quantity
Primary Volts/Amps
Secondary Volts/Amps
Receptacles
Additional Requirements
Power Distribution
Power Transformer Carts
Cables
Additional Items
Timelines
Item
RFQ Date
Project Order Date
Engineering Complete Date
Fabrication Complete Date
Shipment Date
Power Distribution
Power Transformer Carts
Cables
Additional Items
Step 2: Choose the right vendor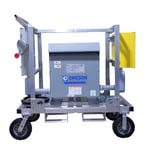 Select a portable power distribution manufacturer that can provide the simple equipment but can customize to your requirements when needed (producing NRTL listed solutions in both circumstances). Being ISO certified with years of experience in the industry are also good things to look for.
Be sure the vendor can provide detailed approval drawings before manufacturing begins, so there are no surprises on how the equipment will operate in the application. Next, to keep timelines in place, ask the manufacturer about their projected production and drawing creation lead times, historical on-time performance, and ability to flex up production when needed. Taking these steps will ensure the equipment will arrive well before the event, and can be staged for deployment.
Step 3: Find engineering services that make your job easier
Finally, beyond the product, see what engineering services the vendor can provide. Common needs are arc flash studies, post-fabrication equipment test reports, UL or CSA certifications, or maintenance manuals.
Trust the experts
Ericson has worked with some of the largest names in the nuclear and power industry including Duke, Dominion, TVA, First Energy, and Ontario Power Generation. Call one of our nuclear power professionals at 1-800-ERICSON, or visit www.ericson.com and get started with a quotation on custom units at ericson.com/rfq.