When creating a project plan for plant shutdowns, there is one aspect you can't compromise on: employee safety. Although each facility is different, there are several common denominators when it comes to safety concerns.
Below are 5 ways you can protect your workers on the job site:
Wet Location Protection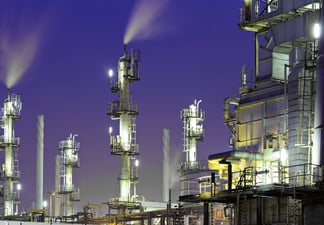 Anywhere indoors, outdoors, or underground that is vulnerable to moisture is considered a wet location. Protecting enclosures and connections from hose down cleaning or other forms of exposure significantly decreases the possibility of electrical shock.
Per the National Electrical Manufacturers Association (NEMA), equipment should have a rating of 3R or 6P. 3R products protect against water intrusion, and have covers over any connector locations. 6P is the more robust of the two ratings, and enables the connection to safely operate while submerged in water. Be sure to utilize equipment that has the proper NEMA rating for your application.
Hazardous Location Protection
The National Electric Code (NEC) quantifies hazardous location based on the environment's type, condition, and nature. The most common rating for refineries is Class 1, which pertains to gases, liquids hazards, and vapors. The Condition establishes whether the exposure is normally present (Division 1) or may accidentally exist (Division 2). Finally, the Nature specifies the ignition temperature of the substance, the explosion pressure, and other flammable characteristics.
In order for equipment to withstand these areas, each piece will be required to have these characteristics:
1) Explosion proof: Strength, durability, and the capability to withstand the internal strain of an explosion
2) Well-Established Flame Path: Controlled escape path for exploding gases, where gases are able to cool off while flames are extinguished. Several types exist, such as threaded and grounded surface.
3) Special Fittings and Seals: Prohibits hot gases from traveling through the conduit system, blocks flammable dusts from entering dust-ignition-proof enclosures, and prohibits ignition in other areas of the closed system.
Confined Space Protection (Non-Permit)
A confined space (non-permit) is an area that can handle temporary occupancy, but has limited access to the entry or exit, such as manholes, tanks, and vessels. Measures should be taken to prevent the space from energizing and shocking the worker. This is easily achieved by utilizing either GFCI protection or a low-voltage power supply.
This part of the project is also an excellent time to review your in-house safety procedures. Although OSHA currently allows companies to use either of the two solutions previously noted, some businesses require low voltage regardless of the project scope.
Automatic Power Source & Line Quality Monitoring
When there's a ground fault, wiring error, loose wire, or other failure mode, a best case scenario is the equipment can be damaged. However, there are more serious consequences at stake - workers can be exposed to electrical shock and seriously injured.
To combat this risk, take advantage of a power source and line quality monitoring device. These products quickly alert operators of any problems via indicator lights in both the plug and receptacle ends of the cord set. One color signifies that everything is safely wired and able to proceed as planned, while the second color is a warning that an issue exists.
Cable Protection
It is especially important in a heavy industrial environment to take precautions to protect your equipment. A cable failure can lead to downtime for your machinery, while cables with weakened outer insulation can expose workers to shock hazards.
Two options for cable protection are a trench or fabricated wood or steel box, many companies find temporary, portable cable ramps are more convenient. These units are comprised of two elements: a ramp on either side of the cable, as well as a central section that conceals the cable with a lid.
When selecting a cable protector, double check that the weight load rating is appropriate for your application. For some added insurance, you can opt for a slightly higher rating than you anticipate you'll need.
Plant shutdowns are a complex, time-consuming endeavor. Selecting the proper equipment can streamline the project and help it stay within budget, but more importantly, workers will be protected in all areas of the job site.