The Ingress Protection system is an internationally accepted measurement of how much a device prevents the entry of dust and high temperature, high pressure water into its interior. The rating starts with two letters (IP) followed by two numbers.
The first number refers to the amount of protection a scale or indicator enclosure has against solid matter (such as dust particles), while the second number defines the level of protection against liquids. The larger each digit is, the greater the level of protection.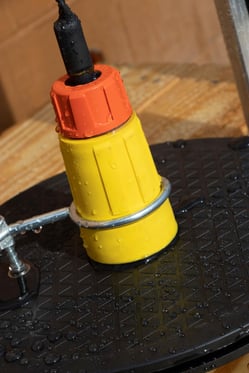 In industries such as food processing and laboratories, where hygiene and cleanliness are paramount, equipment must be able to withstand frequent and rigorous high pressure, high temperature wash-down procedures. In many other industries, such as power generation or construction, it is important to ensure that dust and dirt cannot penetrate the exterior of a product and cause it to fail.
The highest IP ranking available is IP69K, and devices are required to undergo several challenging tests before they earn the rating.
To start, materials must be UV resistant and non-absorptive, and the devices themselves must be water and dust resistant. Each item is subject to being sprayed with 176 °F/ 80 °C water from four different angles for 30 seconds per angle. The water must be applied at 1500PSI, and the device must be on a turntable that rotates every 12 seconds.
If all goes as planned, the product is certified as having complete shielding from dust as well as protection from steam-jet cleaning, making it ideal for numerous applications.
.