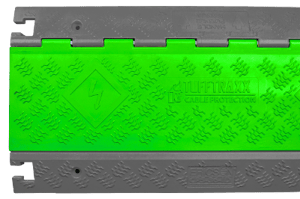 For years, TuffTraxx, our cable and hose management system, has been manufactured in Ericson's trademark blue and yellow. However, customers now have the option to personalize their TuffTraxx to better match their brand. The product can be fashioned in a variety of colors and now features the option to have the purchaser's logo imprinted directly onto the hinged lid.
TuffTraxx is composed of a rugged polyurethane and is strong enough to withstand environments with industrial and extreme duty service ratings. It protects cables & hoses from accidental damage and has a handle molded into the back for easy transport. Able to withstand load ratings of up to 50,000 pounds per axle, TuffTraxx is a durable product that is built to last.
To learn more about TuffTraxx, view our web site.