"Should we buy a portable power solution or build our own?"
It's a question that's been around almost as long as the need for temporary power distribution. Whether you require power for an event, a job site, a refinery, or a power generation facility, there are certain aspects you need to consider before deciding to build your own or buy a professionally designed and manufactured temporary power distribution solution. Key factors you might focus on when looking into temporary power units are time and money savings, ease of use and portability on site, and safety.
In this post, we'll be focusing on time and money savings.
------------
You need a temporary power solution and you think that you can just whip something up quickly to save time.
But in the long run, is it a true savings?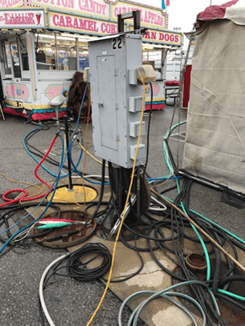 Probably the most cited argument for building your own power distribution unit (PDU) is the initial cost of purchase. While a certain amount of "sticker shock" can happen, you must look beyond the purchase price and to the total cost of ownership of a professionally manufactured unit to understand the true benefits and cost savings over time.
Home-built temporary power solutions are often cobbled together with parts found around the shop or purchased from multiple distributors. While at first it seems like you could save time building this yourself, there are other, more long-term factors, which also need to
be considered.
Product longevity and reusability is not usually on your mind when considering building your own power distribution unit, but it should be. A product manufactured by a trusted, established company will last you many years with little need for repairs or maintenance and can be used again and again on various jobs. Longevity of a self-built solution is usually minimal.
A home-built unit, with its Frankensteinian hodgepodge of parts, can require frequent maintenance periods that result in downtime. Also, many times, electrical contractors build a PDU for a specific job and then dismantle it once the job is complete. This method of building new units for each job actually doubles labor time for each cart and for each project – adding to lost productivity and labor expense.
And then what happens when the Authority Having Jurisdiction (AHJ) inspectors come calling? Is your home-built solution going to pass code with no issues? A professionally manufactured PDU with a rating from a Nationally Recognized Testing Laboratory (NRTL) is a near-automatic inspection pass. Having to rework a built PDU to fall within code contributes to unnecessary productivity loss and increased labor costs.
With the time needed to build a unit plus maintenance and tear-down, building your own unit can actually result in wasted time, lost productivity, and increased labor costs over the long run.
-----
Want to learn more about this topic? Download our white paper today!