"Should we buy a portable power solution or build our own?"
It's a question that's been around almost as long as the need for temporary power distribution. Whether you require power for an event, a job site, a refinery, or a power generation facility, there are certain aspects you need to consider before deciding to build your own or buy a professionally designed and manufactured temporary power distribution solution. Key factors you might focus on when looking into temporary power units are time and money savings, ease of use and portability on site, and safety.
In this post, we'll be focusing on ease of use and portability.
------------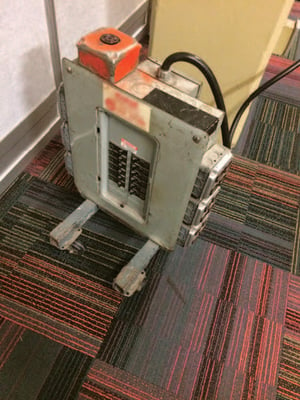 Besides exploring the time and money savings that can occur when purchasing a PDU, you should also examine how the unit functions in the field to get a full picture of the benefits.
How easy is your home-built power distribution center to use in the field? That obviously depends on how it is made, but judging from the many we've seen, the convenience factor of these units is not particularly high. Why? Because when a unit is built for one particular job, there is usually little forethought put into how to make a long-lasting easy-to-use unit – the focus is solely on the task of distributing power.
But what if you need to move the unit (for safety, convenience, or productivity reasons)? What if your unit is not able to distribute power to enough places and you need to connect it to another PDU? Can it handle that safely? Does your unit have designated lift points or handles for safe and easy transport?
These are all possible scenarios for power distribution whether you are using units for construction projects, events, or even for equipment turnarounds at plants or refineries.
A professionally engineered solution will have most or all of these features built into it. You'll know if it's capable for easy transport and whether it can be daisy-chained with other similar units for added versatility. Many PDUs offer "plug-and-play" functionality meaning all you need to do is attach it to your main power source and you're off and running with minimal set-up.
This type of functionality and portability not only saves time and money during initial phases or installation but also during the progression of a project, as equipment and temporary power needs migrate across the jobsite.
These types of features make a unit simple to work with and add a superior level of safety to what can be a dangerous situation if PDUs are not constructed to exacting standards.
-----
Want to learn more about this topic? Download our white paper today!