Does your company have an assured equipment grounding conductor program (AEGCP)? Do you dread the lost worker time by regular inspection and documentation requirements, or maybe haven't kept up with record keeping? There is an answer to these questions.
Assured grounding conductor programs save lives
With 154 electrical workplace fatalities in 2016, and 1,640 nonfatal workplace electrical injuries, electrical safety isn't just a good idea, it's a lifesaver. One of the ways workers are protected on the job site, is with an Assured Equipment Grounding Conductor program. This applies to extension cords on job sites, making sure the equipment grounding functionality is intact.
OSHA requirements
Any AEGC program will have to meet OSHA 1926.404 (b)(1)(iii) mandates for construction sites. Daily inspections will be conducted on all extension cords before each day's use, and at regular intervals, the cords will be tested tests. Lastly, test results need to be documented, but documentation can easily lapse even when the testing is conducted
Eliminate testing and record keeping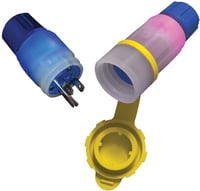 There are newer devices on the market that perform these tests for you, in real time. These devices are illuminated connectors that monitor the cable for any imperfections in the grounding system. They are easy to follow – a blue light indicates a safe condition, and a red light indicates a problem and the cord should not be use. The advantage of a system like this is that the devices are always active when energized, letting the user know at every use if the grounding conductor is intact.
The Ericson Smart Monitor™ visual diagnostic plug and connector series offers these advantages and more. In addition to open grounding conductor testing, Ericson's Smart Monitor™ provides feedback on when other conditions such as open neutral, hot on ground, and hot/neutral swap.
Save money and increase safety and compliance
The always on feature saves the time of rounding up all the extension cords, plus eliminates the time it takes to test, saving you money. OSHA compliance is assured as now all cables are tested and none overlooked. But most importantly, it increases safety. The cords are essentially tested at every use, not just periodically, avoiding a bad cable slipping through the cracks and being used.
Summary
Ericson Smart Monitors are - illuminated plugs and connectors that indicate error conditions in extension cords, and assure that a ground conductor is present
They increases compliance – it satisfies OSHA 1926.404 requirements for Assured Equipment Grounding Conductor programs on construction sites, and some facilities may fall behind in testing, or records may not be up to date
They are safer - workers are ALWAYS protected. It also increases protection by testing for other conditions such as open neutral, hot on ground, and hot/neutral swap
They save money – eliminating testing saves time
Next steps
Review your assured grounding conductor program, and revise to include the use of Smart Monitor devices. Install devices on the extension cords, and train users on the operation. Consider stocking the devices so that new cords can easily be converted, or buy cords with Smart Monitors already installed.