Ericson is happy to announce that our Perma-Tite watertight wiring devices have earned the IP69K ingress protection rating! This also includes our watertight models of SmartMonitor visual diagnostic as well as Perma-Kleen antimicrobial wiring devices.
T
he Ingress Protection (IP) rating utilizes an internationally recognized standards for devices that protect against the entry of particulate or liquids. The highest rating available at this time is IP69K, which means , in addition to being UL listed and CSA certified, Ericson's IP69K products provide the highest possible degree of protection against dirt, water, and high pressure hose downs.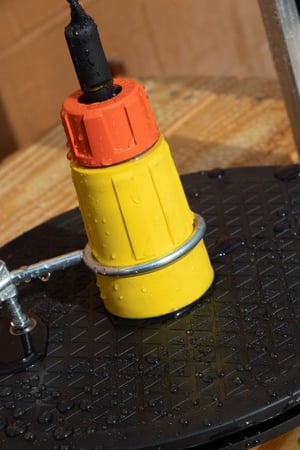 Perma-Tite wiring devices are composed of an extremely durable TPV material that is long lasting in extreme industrial environments and fade resistant in outdoor environments. Each connector includes a removable/replaceable self-retained sealing cap to keep out contaminants when not in use.
Perma-Kleen is Ericson's antimicrobial line of wiring devices ideal of food manufacturing, laboratories, and any facility looking for an added protection. Antimicrobial additives are embedded throughout the device's polymer, rather than just as a surface treatment. Because of this, the antimicrobial action is renewed by scuffing or scraping, rather than being diminished. These products are NSF approved for food handling machinery, washdown resistant, and inhibit the growth of bacteria, molds, mildews, and fungi between cleanings.
SmartMonitor wiring devices provide ongoing ground continuity monitoring. Additionally, it alerts the operator of 7 different potentially dangerous electrical events via a clear visual indication. If the LED light is red, the nd the attached equipment can quickly be taken out of service for inspection or repair.
To qualify for IP69K, the device materials must be UV resistant and non-absorptive, and the devices themselves must be water and dust resistant, and must pass a 1500PSI spray test with 176 degree F hot water while clamped to a rotating turntable. If all goes as planned, the product is certified as having complete shielding from dust as well as protection from steam-jet cleaning.
The IP69K rating is another confirmation of Ericson's commitment to product reliability and safety. By constantly testing and measuring the quality of our solutions, we continue to be an industry leader in rugged, durable electrical supplies.