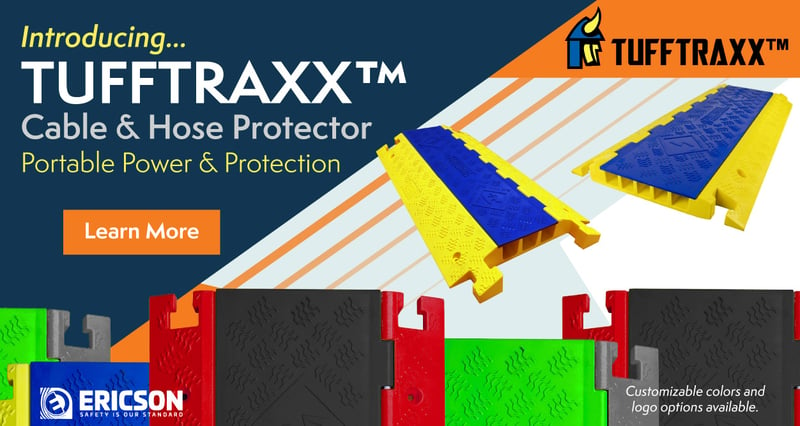 We are proud to announce upgraded versions of our extremely capable line of our Cable and Hose Protectors. Critical to Jobsite Cable and Hose Protection, Ericson offer their extensive line of USA Made TuffTraxx solutions.
Ericson's TuffTraxx Series spans the category with two versions of vehicular load ratings, various channel configurations and the capability to customize the cover and base colors and include a heat stamp logo.
TuffTraxx Has Several Unique Features:
Meets stringent US and Canadian Safety Code Requirements for Cable and Hose Protection
High Visible Yellow Base with Rugged Blue Channel Cover
Industry Exclusive 27,000, 35,000 and 50,000 Maximum Load Rating Per Axle
3-Channel Version Capable of Handling 2" Diameter Cable or Hoses
4 and 5-Channel Versions Capable of Handling a Variety and Quantity of Cables
Industry Standard 36" Length with Popular "Dog Bone" Connectors to Intermate with Industry Standard Cable and Hose Protectors
Shakedown holes provided for temporary & permanent applications ensuring Traxx stay in place
Industry Exclusive Carrying Handle located on the bottom edge of the protector
TT-Cart is available for easy jobsite positioning of 10 sections
CP-GRIPKIT Accessory available to adhere to the bottom of the TuffTraxx Section to prevent slipping
Cover and Base can be customized with special colors and heat logo in cover

Perfect for Temporary Power Applications to protect cable from pedestrian, vehicular damage or abrasion and damage from sharp corners:
Construction Jobsites
Temporary Power Applications – Shutdown and Turnaround
Festivals, Conventions, Entertainment
Industrial Facilities
Maintenance and Repair Facilities
Municipal Facilities
Warehouses
These industry leading features, showcase Ericson's highest industry distinction for safe, durable, and reliable Cable and Hose Protection products.
With over 104 years' experience bringing sale portable power and lighting products to the industry– We Know Cable and Hose Protection!
Contact any of our esteemed factory representatives or contact Ericson directly at sales@ericson.com to design a standard or custom solution for your most demanding applications.
L1000292 - Ericson MFG TuffTraxx Series
Let Ericson put its 104 Years of Experience, Innovation and Expertise to work for you on your next demanding Jobsite Portable Power and Lighting applications.
Stay Tuned for more exciting New Product Offerings from our extensive line GFCI Solutions.