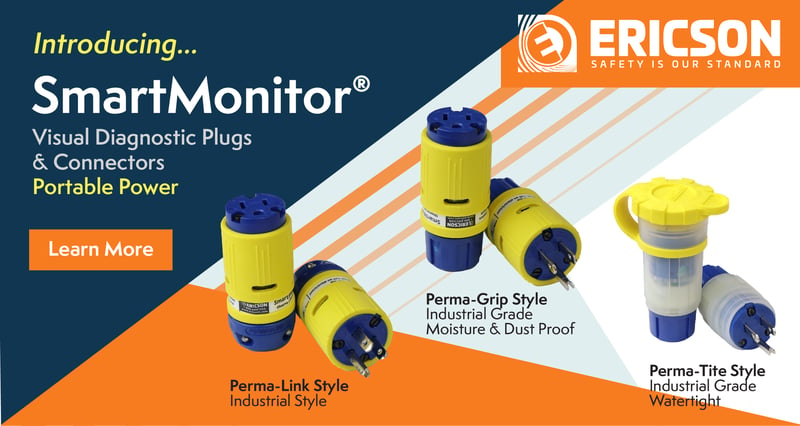 We are proud to announce upgraded versions of our extremely capable line of our Smart Monitor Devices and Factory Assembled Cordsets. With several exclusive safety patents, this industry leading product, ensures safe corded connections in the workspace.
Ericson's Smart Monitor Solutions leads the industry in ensuring critical corded power is safe for users. With its patented 7-point check system, it meets and exceed OSHA, NEC and CSA requirements for the Assured Equipment Grounding Conductor Program.
The AEGCP program is designed to ensure workers using portable cords are safe. Briefly, the program includes a process requirement to check the cords for continuity, ground condition and overall cord integrity (no severed conductors, cord damage, etc.). Each time a worker receives a cord it is checked to ensure safety and when the worker returns the cord from use, it is checked again. Each inspection is recorded for inspection.
The Smart-Monitor Solution, when both the SM Plug and SM Connector are attached to a cordset start with the receptacle feeding power. The SM Plug does a 7-point check to ensure your first point of contact is properly wired. From there the SM Connector monitors the cord to ensure there is no damage and the connector is wired properly. Bright Green LED indicate a safe condition, a Red LED indicates an unsafe condition, either at the receptacle or at the connector.
Cords with SM Plugs and Connectors are infinitely safer since it has checked the receptacle feeding the cord first and monitors, in real-time, while the cord is in-use. Any cord damage that might occur the worker is alerted of an unsafe condition on either the receptacle or both ends of the cord, signaling an unsafe condition.
The Smart Monitor Solution is available in a 15 or 20A, 125V, Indoor, Dust and Moisture resistant and a Water-Tight, IP69K version, along with a host of factor assembled cordsets with either an industrial plug and Smart Monitor Connector or both a Smart Monitor Plug and Smart Monitor Connector.
Ericson's Smart Monitor Solutions – takes the guesswork out of cord safety and complies with the highest Code requirements for safe portable electrical cords.
Infinitely capable, these ruggedly built products have several industry leading & exclusive features including:
Smart Monitor Plugs, Connectors and Cordsets –
Exceeds OSHA, NEC and CSA Requirements for AEGCP Cordset Safety
Made in the USA
Indoor, Dust and Moisture Proof and 4, 4x, IP6P and IP69K Version available
Plated device blades and contacts resist corrosion and extend device life.
Molded PBT & TPE husk resistant to worksite abuse, moisture, water, chemicals, and oils.
Secure cord clamp to support industries widest range of cable diameters.
Exclusive and replaceable watertight Plug Cover and Connector Cap.
Wide Range of 14/3 and 12/3 Factory Assembled Cordsets Available

These exclusive products and their industry leading features, showcase Ericson's highest industry distinction for safe, durable, and reliable portable power products.
Check out the balance of our expansive line of portable power solutions.
L1000670 - Ericson MFG Smart Monitor Series
Contact any of our esteemed factory representatives or contact Ericson directly at sales@ericson.com to design a standard or custom solution for your most demanding applications.
Let Ericson put its 104 Years of Experience, Innovation and Expertise to work for you on your next demanding Jobsite Lighting application.
Stay Tuned for more exciting New Product Offerings in our Non-Metallic Boxes and Factory Assembled Power Drops.