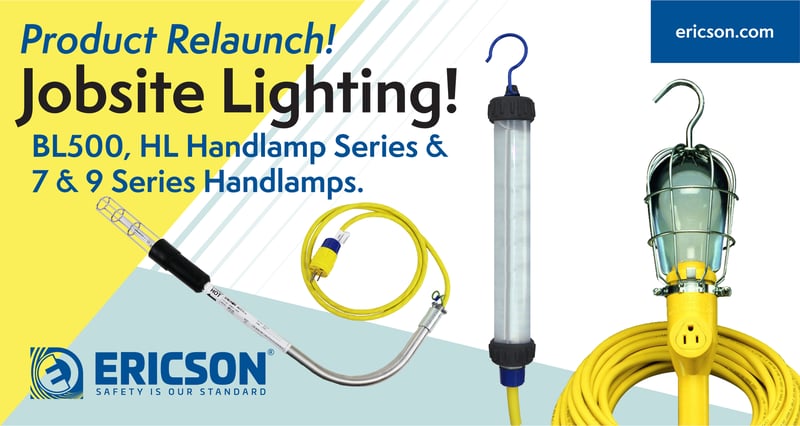 We are proud to announce upgraded versions of our extremely capable line of Industrial Handlamps and Boiler Inspection Lights. These new and updated products have several key features important when safe, code compliant lighting for industrial workspace is necessary.
Infinitely capable, these ruggedly built products have several industry leading & exclusive features including:
7 & 9 Series:
Rugged Non-Metallic Handles are impervious to impact and wide range of worksite chemicals.
Handlamps accept a wide range of A19 & A21 Style LED and Coated Incandescent Lamps in 12V & 120V.
Available with and without receptacles and switches
Molded Water-Tight and Industrial Dust-Tight Plugs Available
HL Handlamps are available in 200 and 360-degree Light Outputs
HL Style Handlamps:
Available in 6, 11 & 22" lengths
Available with Rubber Handle & Switches (except 22")
Durable Rubber End-Caps with Coated Steel Hook
Rugged Plastic Tube Shield Resists Abuse
200 & 360-Degree LED Light Beam Angles
Efficient LED Light Engines product 1000 – 3800 lumens across our 6"-22" designs.
Common to all Industrial Handlamp Styles:
Available in 25 & 50' Industrial, SOW, Cord Lengths
Available Customization of color, handle, and cord marking
UL & CSA Listed through the entire range
Complete suite of accessories and renewal parts available.
Proudly Made in the USA.
These features along with several others, give Ericson the highest distinction in the industry for safe, durable, and reliable Industrial Jobsite Lighting Solutions.
Check out the balance of our expansive line of Industrial Handlamp, String Light and Highbay and Wide Area Lighting Solutions.
L1000642 - Ericson MFG BL500 Series Straight Lamps
L1000850- Ericson MFG HL LED Series Industrial Handlamps
L1000873- Ericson MFG Literature Sheet 7 and 9 Series Handlamps
Contact any of our esteemed factory representatives or contact Ericson directly at sales@ericson.com to design the standard or custom solution for your most demanding applications.
Let Ericson put its 104 Years of Experience, Innovation and Expertise to work for you on your next demanding Jobsite Lighting application.
Stay Tuned for an exciting New Product Offerings in our Industrial String Lights and SL Series LED Linear LED String Lights!