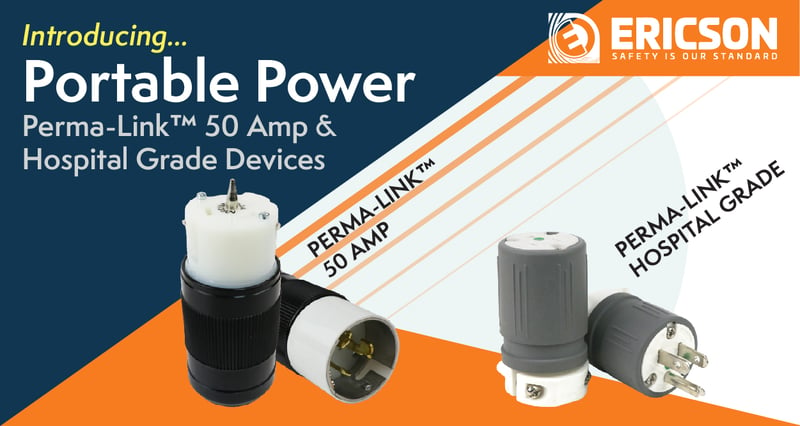 We are proud to announce upgraded versions of our extremely capable line of Hospital Grade and 50A Portable Power Plugs and Connectors. These new and updated products offer several key features important when safe, durable capable code compliant products are required for demanding, rugged moisture and dusty workplaces such as Healthcare Facilities and Commercial and Industrial Construction Jobsites.
Infinitely capable, these ruggedly built products have several industry leading & exclusive features including:
Perma-Spec Hospital Grade 15 & 20A Plugs and Connectors –
UL Listed, CSA Certified
Double insulated PBT with TPE husk for high crush, hospital chemical & wide temperature range
Rugged two-piece cord clamp offers greater flexibility, highest pull-out strength in its class and integration with I-Grip wire mesh strain relief
Exclusive internal dust and moisture seal to prevent contaminants enter the device
Industry exclusive plated devices blade and contacts significantly extending device life
Offered in clear husk for easy wire identification and inspection
Made proudly in the US


Perma-Spec 50A Commercial/Industrial Grade Locking Plugs and Connectors.
UL Listed, CSA Certified, cETLus
Rugged nylon construction resists high impact and worksite chemicals
Internal and two-piece cord clamp to accommodate a variety of cord diameters
Exclusive internal dust and moisture seal to prevent contaminants entering the device
Plated devices blade and contacts significantly extending device life
Accessories include SR50, 50A weather tight box, receptacle and cover assembly with 21" leads
Available with sealing boots and rings for additional weather tight confidence and UV protection
Available in factory assembled cord-sets in various lengths


These distinct products and their industry leading features, showcase Ericson's highest industry distinction for safe, durable, and reliable portable power products.
Check out the balance of our expansive line of Portable Power and GFCI Solutions:
L1000881 - Ericson MFG Literature Sheet 50 Amp
L1000880 - Ericson MFG Hospital Grade
Contact any of our esteemed factory representatives or contact Ericson directly at sales@ericson.com to design a standard or custom solution for your most demanding applications.
Let Ericson put its 104 Years of Experience, Innovation and Expertise to work for you on your next demanding Jobsite Lighting application.
Stay Tuned for more exciting New Product Offerings in our Portable Power Products!