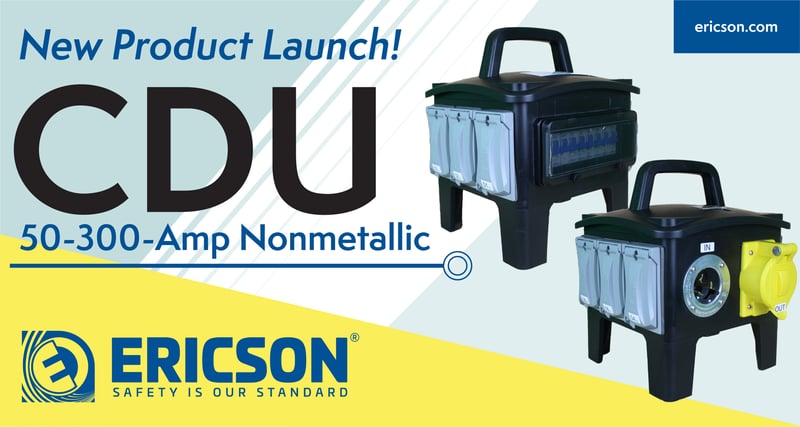 We are proud to announce an entirely new Nonmetallic Series of Jobsite Power Solutions. These exclusively new products are housed in a solid rubber enclosure with several unique features. Designed in a "system approach" these units feature both Compact Distribution Units as well as Compact Distribution Centers. Perfect for any jobsite or event requiring integrated high density power requirements from 50-300-Amp.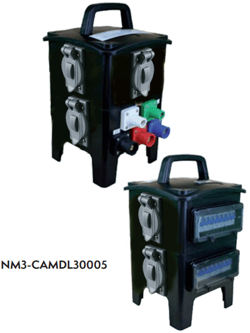 Ruggedly built and easily stacked, these units offer a myriad of connection options and extend Ericson's, already expansive, range of Code Compliant Jobsite Power Solutions to the industry.
Industry Exclusive Features and Upgrades:
Extremely Durable Solid Rubber Construction
Easy to Carry Handle
Stackable Design
UL Listed through the entire range (CSA Approval Available)
Incorporating UL943-5th Edition Self-Testing GFCI Protection
Indoor and Outdoor Designs
Single Phase, 125/250 and 3-Phase, 120/208-Volt configurations
Range of Power Inputs and outputs – CS Style, IEC Pin & Sleeve & CAM

Extensive List of Features and Options
Perfect for Indoor and Outdoor Construction, Event & Entertainment Power Requirements
Full Range of 50, 60, 80, 100 A Distribution Units
Compact Power Distribution Centers from, Single & Three-Phase, 100-300-Amp
All units provided with Weatherproof Receptacle Covers
Field Serviceable by Qualified Personnel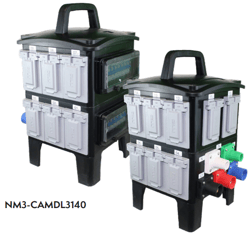 Check out our broad list of accessory cord sets to support this series.
These features, and several others, have given Ericson the highest distinction in the industry for safe, durable, and reliable Jobsite Power Solutions.
CLICK LINK BELOW TO LEARN MORE:
Compact Distribution Units 50-300 Amp Nonmetallic
Contact any of our esteemed factory representatives or contact Ericson directly at sales@ericson.com to design the standard or custom solution for your most demanding applications.
Let Ericson put its 104 Years of Experience, Innovation and Expertise to work for you on your next demanding Jobsite Power or Turn-Around application.
Stay Tuned for an exciting New Product Offerings in our Construction and Industrial Lighting Category!