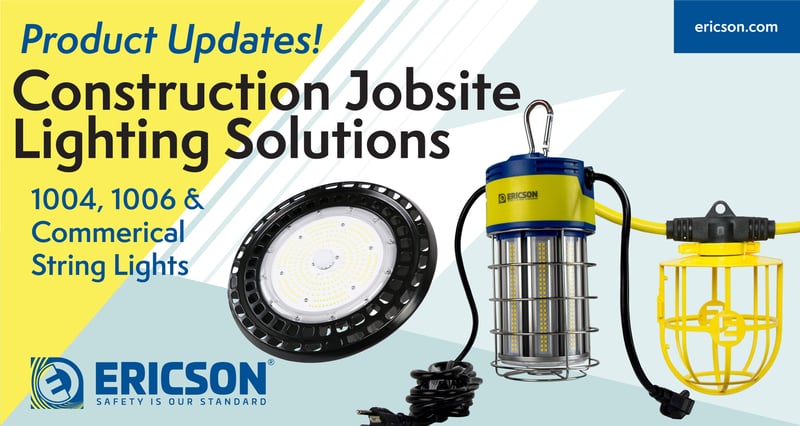 We are proud to announce upgraded versions of our extremely capable line of Construction Jobsite Lighting Solutions. These new and existing products have several key features important when providing, safe, code compliant lighting for construction jobsites.
Infinitely capable, these ruggedly built products have several industry leading features.
Industry Exclusive Features and Upgrades:
Popular Commercial Grade Strings Lights with configurations and protective lamp cage
Bay Light 1006 Series is available in several single and 3-phase voltage options – 100-277v.
Bay Light Primary and Secondary designed for easy mounting and spacing with 25' extension cord.
Bay Light 1006 Series is available with a rugged, adjustable stand for center of the room use.
IES Drawings available to ensure minimum OSHA required light levels are achieved
Energy efficient LED Drivers offer the most light output for energy consumed.
1004 High Bay is available in "Stringer" configurations offering installation, time efficient, plug & play installation.
UL & CSA Listed through the entire range
Check out our expansive list of Commercial, Industrial and Harsh & Hazardous Jobsite Lighting Solutions.
These features, and several others, have given Ericson the highest distinction in the industry for safe, durable, and reliable Jobsite Lighting Solutions.
L1000765- Ericson MFG 1006-LED Baylite
L1000712 - Ericson MFG 1004 LED Bay Lights
L1000749 - Commercial String Lights
Contact any of our esteemed factory representatives or contact Ericson directly at sales@ericson.com to design the standard or custom solution for your most demanding applications.
Let Ericson put its 104 Years of Experience, Innovation and Expertise to work for you on your next demanding Jobsite Lighting application.
Stay Tuned for an exciting New Product Offerings in our Industrial and Harsh & Hazardous Lighting Category!