How to Plan Temporary Power and Lighting Distribution for a High Rise Construction Project
Nothing in construction is easy or in a matter of fact, works to budget, plans, or on time. With that said, High Rise Development is something of an art form, a complexity with logistics rolled together. Engineering firms and construction companies' work together hand in hand to project manage such a beast of physical nature. Engineers need to develop framework, plumbing, HVAC systems, inner steel framework and all the fundamental systems that go into building sustainable construction.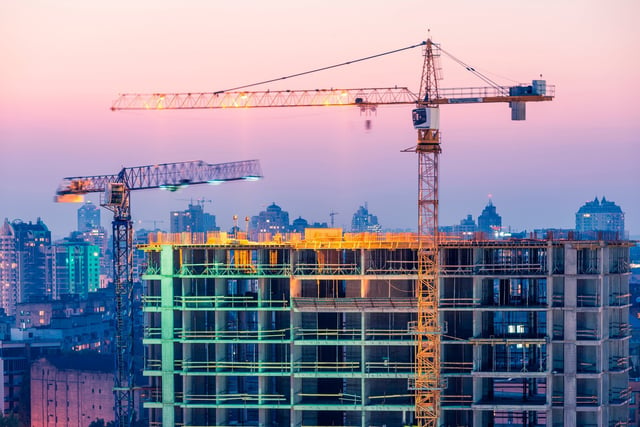 A team of specialists in disciplines from architects, mechanical engineers, structural engineers, elevator consultants, and others like suppliers, city planning ordinances, etc. with whom have credentials and substantial experience are needed to plan and implement a High Rise.
How can a supplier be a solutions provider in this case?
It is simple. Requiring an engineering firm and construction company that works in unison with their suppliers is key. A supplier that understands their own products, finds ways to solve problems or assists in saving time and money for the customer is ideal.
What we find is that 80% of planning focuses on actual construction details, and fails to account for temporary construction site lighting and power distribution for the work site. It is a necessity course, but the time to plan and schematically layout an efficient design for temporary power and lighting takes knowledge and experience. Whether building a 2 story complex or 80 a story High-Rise, the need for portable power distribution centers, industrial work lights, cordsets, cables, cable protectors and more is a requirement.
In temporary power distribution, as mentioned before, you need to understand the project footprint, system loading requirements and where power distribution resources should be located to give workers access to power for tools, lighting and other items. This will typically involve a number of power transformation units that feed other distribution units coupled together with power cables and cordsets. Temporary lighting must first and foremost produce enough foot candles to provide a safe work environment; however, there are many ways to accomplish this task based on the physical constraints of the structure. Different considerations come into place based on ceiling height, the placement of walls and overall size.
How can your temporary power and lighting vendor save you money?
Regardless of the size and complexity, there are ways to plan accordingly so that equipment is easily moved and reused as project phases are completed. Temporary power and lighting are typically move from floor to floor with the difference build-out phases, and a properly designed system allows this to be accomplished efficiently and cost effectively.
By reviewing, researching and understanding your layout, experienced engineers can provide recommendations on how to save time and money, customize electrical cables or distribution units based on specific needs and ultimately deliver a complete turn-key solution that addresses all the worksite tool and lighting needs.
Engineers at your temporary power and lighting supplier should be capable of reviewing your job specifications and designing a schematic layout, overlaid on your architectural prints, that details a turn-key solution with all the necessary work site electrical safety products.
Below are some examples of construction site temp power and lighting schematic layouts.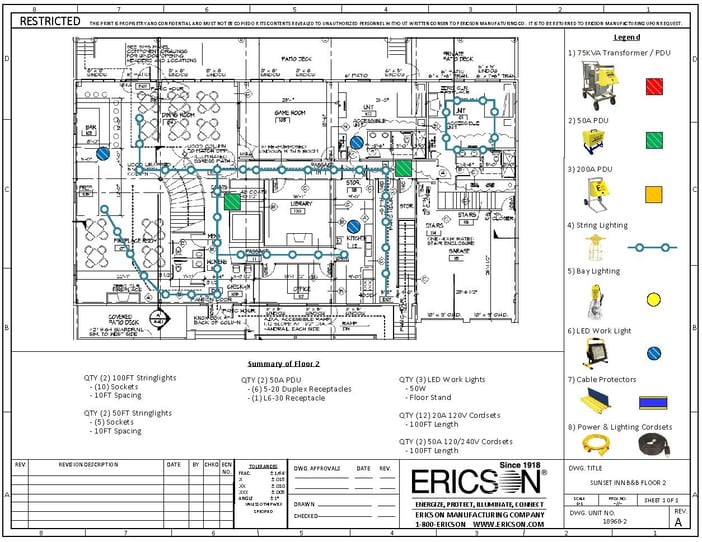 Written by: Kevin Hatgas

Kevin is the Marketing Manager for Ericson Manufacturing. He holds an undergraduate degree and MBA from John Carroll University as well as several digital marketing certifications including Google Analytics, HubSpot, inbound marketing, and email marketing. He is passionate about his family, Cleveland sports teams, and the Oxford comma.
Back to all Power Distribution & Temporary Lighting Solutions Blog