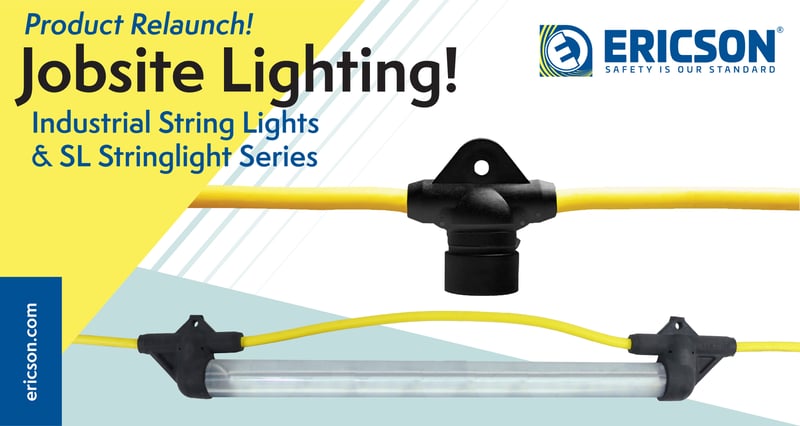 We are proud to announce upgraded versions of our extremely capable line of Industrial String Lights and SL, LED Stringlights. These new and updated products have several key features important when safe, code compliant lighting for industrial workspace is necessary.

Infinitely capable, these ruggedly built products have several industry leading & exclusive features including:
Industrial String Lights: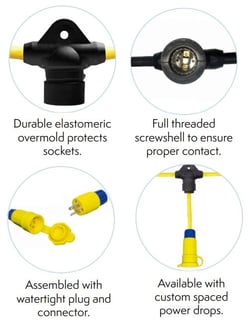 A United States Navy Specification since before WWII, they're time and application tested
Designed for rugged applications at sea with corrosive atmospheres with time tested lamp holder and brass socket design
Popular for Industrial Applications with Multi-Circuit and Custom Cord and Cord Labeling Options
Single and 3-Phase, Multi-Circuit and Multi-Voltage Capable with Power Drops
An industry mainstay accepting multiple lamp outputs, rain shields and protective guards
UL & CSA Approved
Proudly Made in the USA
SL – LED Linear String Light:
Perfect for damp and waterborne applications, including washdown, including outdoor, marine and ocean side


applications – boardwalks, construction handrails, refinery, poultry, greenhouse & food processing, etc

4,000K, 50,000hr Lamp Life
Lumen outputs from 5,400 – 28,000 lumens
Customized CCT & CRI LED Board Options Available
Available in 50' & 100' lengths
NEMA 3R (IP24), 4X (IP56), 6P 6 (IP67)
Single and 3-Phase driver – 100-277V
Shatter Resistant Protective Tube for rugged applications
Frosted & Clear Lens Shields to protect light tube
Custom Cord, Labeling and Lengths
Various Mounting Support Options
EC&M Category Award Winner for Harsh and Hazardous Lighting
UL & CSA Approved
Proudly Made in the USA



These features along with several others, give Ericson the highest distinction in the industry for safe, durable, and reliable Industrial Jobsite Lighting Solutions.
Check out the balance of our expansive line of Industrial Handlamp, String Light and Highbay and Wide Area Lighting Solutions.
L1000772 - Ericson MFG SL Linear String Light
L1000839 - Ericson MFG Industrial Grade String Lights
Contact any of our esteemed factory representatives or contact Ericson directly at sales@ericson.com to design the standard or custom solution for your most demanding applications.
Let Ericson put its 104 Years of Experience, Innovation and Expertise to work for you on your next demanding Jobsite Lighting application.
Stay Tuned for an exciting New Product Offerings in our Harsh & Hazardous LED Solutions!