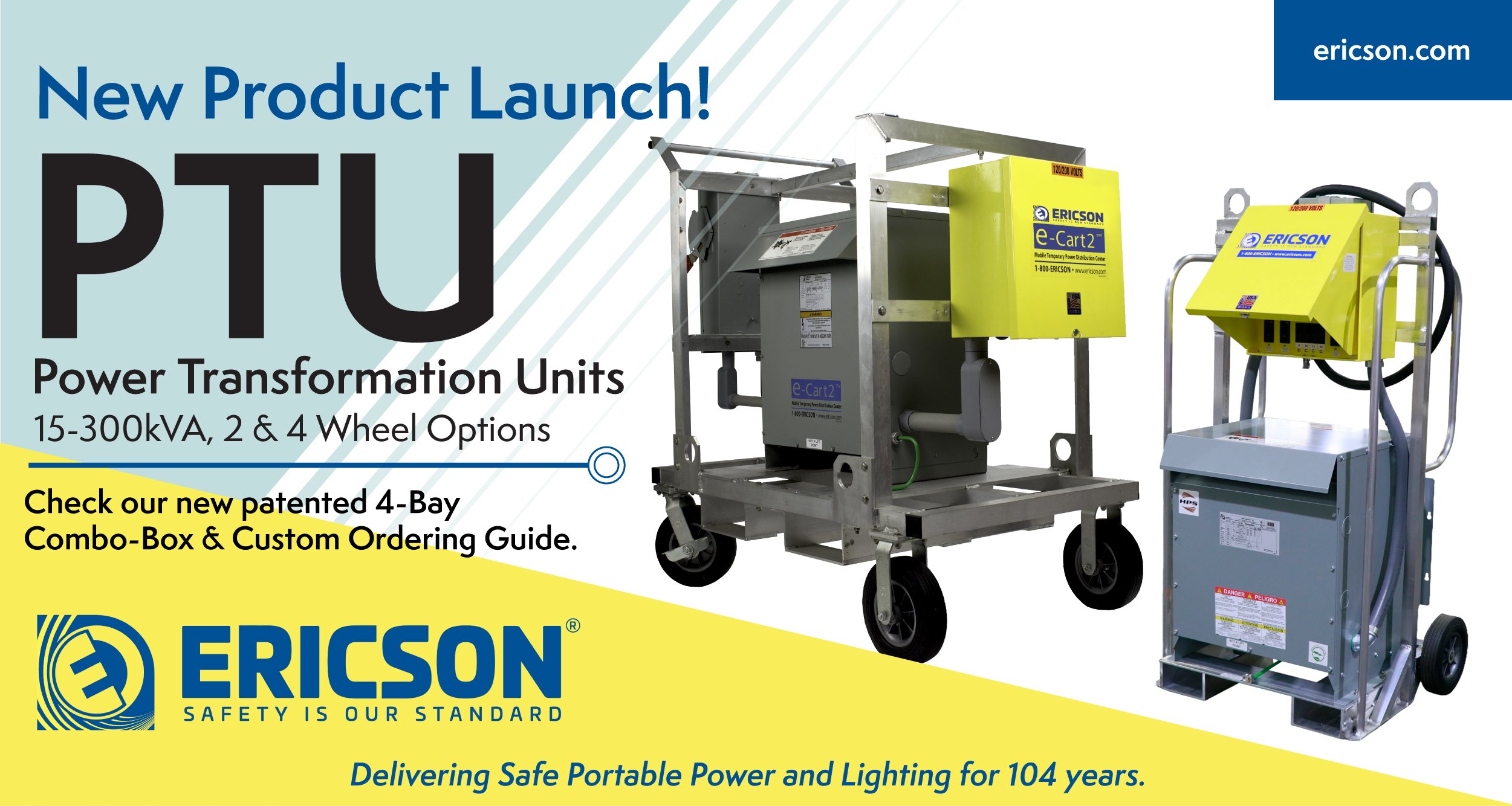 We are proud to announce expanded features and upgrades to our 2-Wheel and 4-Wheel Single and 3-Phase Power Transformation Units.
These upgrades significantly expand
customization and
award winning capability.
Notable Features and Upgrades:
Engineered, Designed and Made in the USA.
Full UL/CSA Compliance
UL943 and UL1640 Compliance. CSA C222 No. 14 Compliance
Transformer Options:
15KVA Encapsulated or Nema 3R Dry-Type Transformer
15-300KVA 2, 4 and Skid Frame Options
Hazardous Location Rated Options
Pilot Control, Transformer Tap Switches, Power Metering and Surge Suppression Options
Rotary Phase Conversation Options
Auto Transformer and Energy Efficient Transformer Options
Primary and Secondary Enclosure and Power Options:
Patented Nema 3R Secondary Combo-Box Design now available in 3 and 4-Sub Panel Design for Scalable Power
Stainless Steel Combo-Box now a standard design for your most demanding corrosion resistant applications
Stainless Steel Primary and Secondary Panel Options
Input and Output Connections – Direct, CAM Style, IEC, NEMA, Explosion Proof, Switch Rated, Mechanical Interlock and Custom Configurations Available
Lighting Control and Timing Options for Secondary 120/208 or 277V Circuits
Frame and Mounting Options:
2-Wheel PTU capability expansion – 15kVA – 45kVA transformers options
Entire System with Wall Mount Options
Expanded Heavy Duty, Corrosion Resistant, Aluminum Frame Options – Fork Tubes, Lifting Eyes, Exoskeleton Protective Frame
Expanded Skid Frame Options through 300kVA and Above
Welded Steel Frame with Custom Paint Options
Linear Frame for Narrow, In-Line Cart, to Allow Narrow Entry Points
These features and several others has given Ericson the highest distinction in the industry for safe, rugged and reliable Jobsite Power Solutions.
Learn More About PTU Power Transformation Unit
Learn More About PTU Jr Power Transformation Unit
Contact any of our esteemed factory representatives or contact Ericson directly at sales@ericson.com to design the standard or custom solution for your most demanding applications.
Let Ericson put its 104 Years of Experience, Innovation and Expertise to work for you on your next demanding Jobsite Power or Turn-Around application.