We are proud to announce an entirely new Nonmetallic Series of Jobsite Power Solutions. These exclusively new products are housed in a rugged nonmetallic enclosure with several unique features. Designed for smaller jobsite electrical demands, these boxes offer 20-30A configurations perfect for popular portable and towable generator power output receptacles or standard electrical configurations on jobsites. The 30A units are available with independently overload protected circuits, with local reset capability.
This product significantly expands Ericson's range of Code Compliant Jobsite Power Solutions to the industry.
Industry Exclusive Features and Upgrades:
Rugged Rubber Enclosure designed for demanding Jobsite Power requirements.
Indoor and Outdoor Designs
All Input Power cords are secured with wire mesh strain relief to prevent cord pull-out
Two and Three circuit designs with local GFCI Protection
30-Amp versions are available with individual & Local GFCI receptacle overload protection.
Industry Exclusive UL943 – 5th Edition Self Testing GFCI Receptacles Relays that comply with
Extensive List of Features and Options
Perfect for Portable and Towable Generators with 20-Amp and 30-Amp Receptacles
Popular 6' and 25' Industrial Cord Lengths
Wire mesh on all versions to prevent dangerous cord pull-out
Water-Tight Input Power Plugs with heavy-duty cord grips
Black versions available when you want to keep your power in the background
Customizable Box and Cover Colors, Cord Types and Colors, and Receptacle Configurations
Field Serviceable by Qualified Personnel
Check out our expansive list of accessory cord sets to support this series.
These features, and several others, have given Ericson the highest distinction in the industry for safe, rugged and reliable Jobsite Power Solutions.
Contact any of our esteemed factory representatives or contact Ericson directly at sales@ericson.com to design the standard or custom solution for your most demanding applications.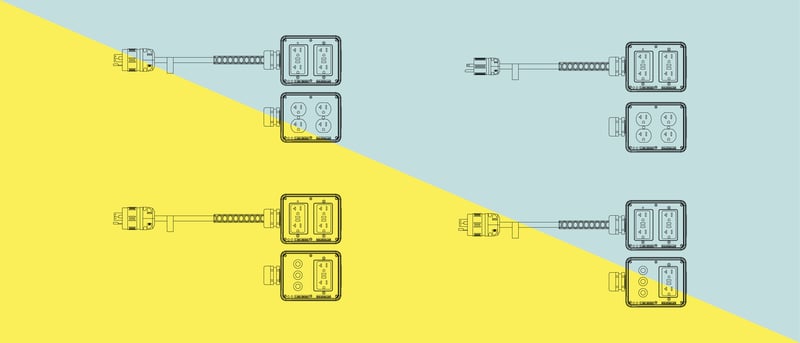 CLICK LINK BELOW TO LEARN MORE:
Compact Distribution Units 20-30Amp Nonmetallic
Let Ericson put its 104 Years of Experience, Innovation and Expertise to work for you on your next demanding Jobsite Power or Turn-Around application.
Stay Tuned for an exciting New Product Announcement of our continued expansion of our Nonmetallic 50-300-Amp Power Distribution Units and first ever Nonmetallic Power Distribution Centers.