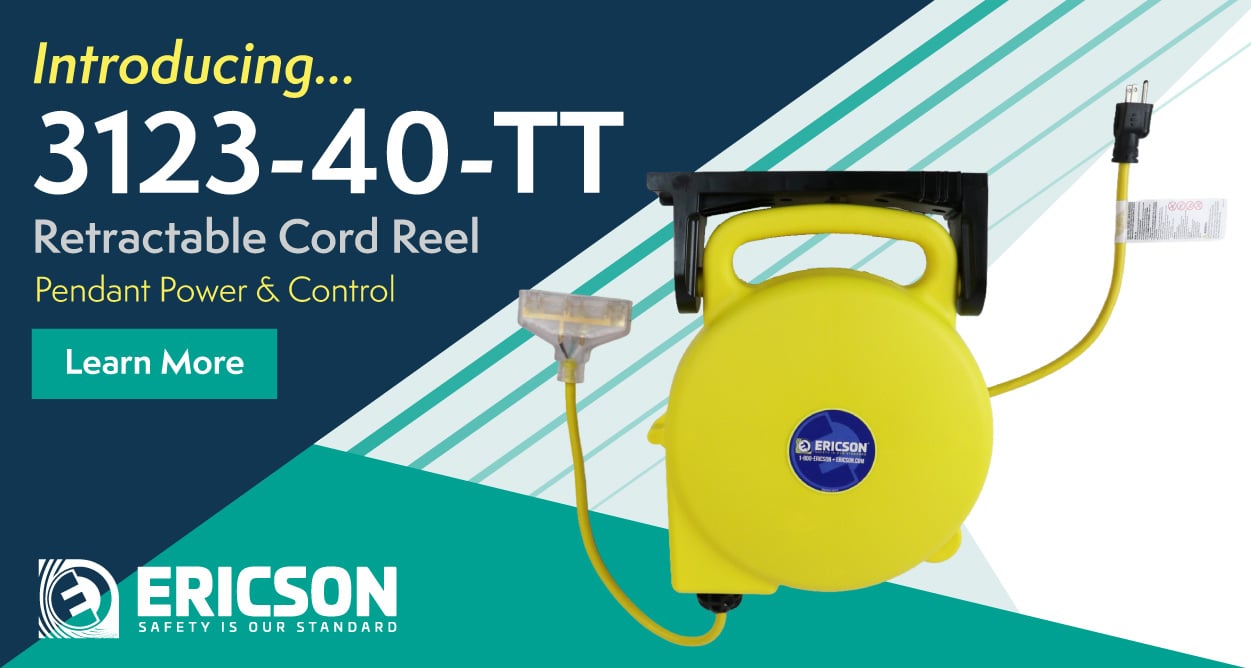 We are proud to announce upgraded versions of our extremely capable line of our commercial grade cable reels. Ericson the consummate innovator, invented and patented the first retractable cord reels with non-metallic handlamps 75 years ago, providing a significantly safer design to the industry.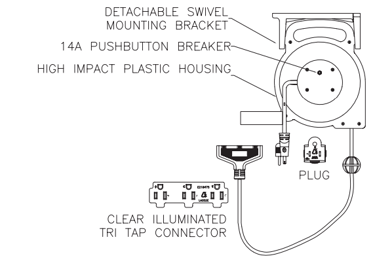 Ericson Cable Reels span the entire category with Commercial through Hazardous Location reels, including motorized versions as well.
The Commercial Grade Cable Reel Category begins with Ericson's extremely capable non-metallic cord reel.
3123-40-TT Has Several Unique Features:
cULus Listed
High Visible Yellow Rugged Nonmetallic Enclosure
Detachable Swivel Mounting Bracket
40' of 12/3SJTW Yellow with Illuminated Tri-Tap
Convenient On-Board 14-Amp Push Button Circuit Breaker Overload
Furnished with Adjustable Ball-Stop
Available with Ericson HL and 7 Series Handlamps
Perfect for Applications where retractable cord reels ensure safe workspaces –
Educational Facilities
Maintenance and Repair Facilities
Municipal Facilities
Warehouses
Retail Facilities

These industry leading features, showcase Ericson's highest industry distinction for safe, durable, and reliable Pendant Power and Control products.
With over 104 years' experience bringing sale portable power and lighting products to the industry– We Know Pendant Power and Control Solutions!
Contact any of our esteemed factory representatives or contact Ericson directly at sales@ericson.com to design a standard or custom solution for your most demanding applications.
L1000874 - Ericson MFG Literature Sheet 3123-40-TT Retractable Cord Reel
Let Ericson put its 104 Years of Experience, Innovation and Expertise to work for you on your next demanding Jobsite Lighting application.
Stay Tuned for more exciting New Product Offerings from our extensive line GFCI Solutions.