We're please to announce Ericson newest product release featuring our extensive line of Factory Assembled Cordset Solutions.

Here are a few notable items you'll find in our catalog –
Sections illustrating unparalleled options for Commercial Jobsite Power Solutions
CAM Type cords sets, induvial sets, bundled 4 & 5 conductor sets and Banded Offerings. We've also included individual CAM-Type plugs and connectos.
Industrial Grade Cordsets including Indoor and Outdoor Solutions
Perma-Kleen solutions including bulk Perma-Kleen Portable Cord in various sizes
Assured Equipment Grounding Conductor Program compliant Smart Monitor Solutions
Pin & Sleeve Corded solutions, covering the range of IEC 309-2 configurations and cord lengths
Factory Assembled 3-Phase Quad Box Stringers – (QBS)
Factory Assembled Power Drops – Assembled indoor and outdoor power boxes with mesh and connector options.
GFCI Corset Solutions
An extensive line of Adapters, Hangers and storage/shipping solutions
Unique to the industry are "Build your Own" solutions in every category, giving users several high quality, US factory assembled to meet your most demanding or unique need.
Optional Jacket Printing Services, identifying ownership, custom part numbers or advertisement
These features and many more position Ericson as The Source for Standard and Custom Factory Assembled Cordset Solutions.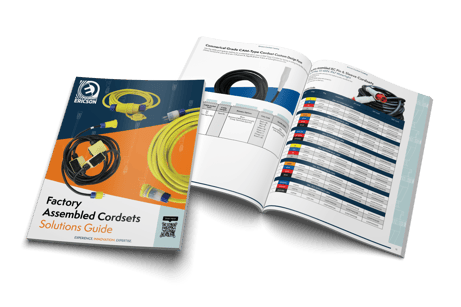 For over 105 years, we've assembled Safe, Code Compliant Custom Cordsets. We Know Cordsets.

Reach out to your Professional Ericson Agency Representative or Contact our Team of Cordset Specialists at Ericson. We stand ready to help.