When purchasing a piece of equipment that has cabling - like worksite lighting or cordsets - you have many options at your disposal for customization. Cord length and circuit type are common attributes that are often the first to be considered, but just as important (or even more so) is the jacket material.
How is your cable being protected?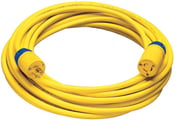 The "jacket" is what you see when looking at a cable; it's the outside of the cabling that protects the wires from the elements, abrasion, and other workplace hazards. But not all jackets are created equal and they all have attributes that make them suitable for different areas or tasks. In this post, we will explore three common jacket types.
PVC
Polyvinyl Chloride (PVC) is the most common jacket material used in cabling today. PVC is a cost-effective option yet still flexible and rugged enough for many work sites. Depending on the formulation, a PVC jacket can be weather and oil resistant as well, offering a wide variety of use cases and application variety. However, the cost-effectiveness of PVC cables comes with the trade off of not having the properties required to be "hard usage" or "extra hard usage" demanded for industrial usage.
TPE
Thermoplastic elastomers (TPE) are the next step up from PVC jackets. TPE is highly flexible, has superior low-temperature properties, and is UV resistant which make this jacket ideal for outdoor use and heavy-duty indoor applications. TPE cable jackets can be formulated to meet industrial standards of "hard" and "extra-hard usage."
Rubber
Rubber is the best jacket material money can buy. Highly durable and resistant to most anything a work site can throw at it, rubber jackets are the top choice for harsh environment applications and are the ideal choice for use near welding equipment. Like TPE jackets, rubber will meet "hard" and "extra-hard usage" requirements.
| Resistances & Characteristics | PVC | TPE | Rubber |
| --- | --- | --- | --- |
| Weld Spatter | Poor | Better | Best |
| Oil | Good | Better | Best |
| Cold Weather Flexibility | Good | Better | Best |
| UV Light | Good | Better | Best |
| Abrasion | Good | Better | Best |
| Water | Good | Better | Best |
| Durability | Good | Better | Best |
To learn more about other attributes of cables, read our post "SJO...What? The Meanings Behind The Letters on Electrical Cables."
Do you have questions about what jacket material will work best for your application? Contact us and let us guide you through what we have to offer.