How to Use pendant stations at Your Facility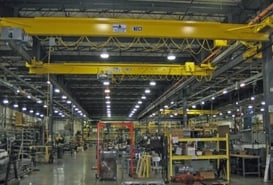 Pendant Stations or Pendant Controls are a series of simple switches that control much larger electrical loads through various means. These loads are typically cranes or hoists, but can also be anything from conveyor belt systems to specialized production line equipment.
Pendant stations usually contain low power pilot duty switches that are connected to relays, Programmable Logic Controllers (PLCs) or other automation circuitry to control the larger equipment loads . In order to use them, the user actuates the switches on manual pendants in a specific order. This causes the machine to move to and from the desired point. In most cases, the more buttons a pendant station has, the more directions the machine is able to move.
Most often, pendant stations are used to control large industrial cranes and hoists. They are also able to be used as the remote control for industrial machines. Pendant control stations are specifically designed for lifting and handling applications, as they enable direct line-of-sight control of motors.
While these devices look pretty simple, they actually have many components. Pendant stations usually come with switches, dials, and pushbuttons through which commands are relayed to the controlled device and other monitoring systems (if necessary). The pendants and their controlled device are usually connected through a cabling system; however, wireless pendant controls are also common.
Below, you are able to see a cut open version of an Ericson 5500 Series pendant station. This product can be either single or dual speed, have 2- 12 button configurations, and is rated for NEMA Types 1, 3, 4, 4X and 12 and IP65 suitability enclosure ratings.
 

If you have any questions, or you are looking for a custom pendant station solution, click below to get in touch with our team.
Written by: Greg Brown

Greg Brown is an Applications Engineer.
Back to all Power Distribution & Temporary Lighting Solutions Blog