LED Lighting Will Keep Your Job Site Safer and More Efficient
Aircraft construction crews could be called upon to work in virtually any environment, many of which are tight spaces that are hard to maneuver in, and they are usually working against hard deadlines. Long hours are a part of many construction sites – and this is where choice of aerospace lighting solutions play a huge role by providing increased safety for workers and helping them to stay on schedule.
Ericson supplies portable lighting and power solutions that meet stringent OSHA and NEC safety standards, while incorporating critical functionality needed by our industry partners. All products deliver unrivaled personnel and equipment protection with exceptional ergonomic utility.
Ericson has made advancements in lighting to keep up with the ever-changing developments in the aerospace industry. LED temporary lighting is just one of those advancements that make aircraft construction jobsites safer environments to work in.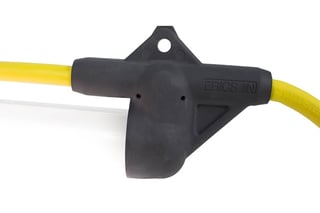 One of the main benefits you will find with Ericson's LED lighting solutions is higher durability. Typically LED lighting is replacing some form of lighting with a glass envelope and possibly a fragile filament, such as fluorescent, incandescent, or high intensity discharge (HID).

By eliminating these fragile components, LED lighting offers users a more robust solution for industrial work lights. This is key for users of temporary jobsite lighting, where lights are subjected to a lot of abuse from disassembly, transportation and reassembly.

Another benefit is LED lighting offers a longlife span compared to other lighting options - typically, 25,000 hours or more. Compared to incandescent, which even heavy-duty models are often rated at 10,000 hours or less, LEDs can offer users the best return on investment even before their lower power consumption is factored in.

Yes, lower power usage means lower cost of operation. Lower wattage means fewer kilowatt hours on your bill. A 100 watt incandescent uses just that, 100 watts. A typical 100 watt LED equivalent uses 15 watts. For a 1000 foot string with bulbs every ten feet and an electricity cost of $0.07 per kilowatt hour, the LED saves the end user $0.70 per hour. Over the 25,000 hour life span of the bulb that means a savings of $17,500!

There are many advantages to using LED lighting as your temporary job site lighting provider. Keeping up with the trends can allow your job site to get the job done well and do it safely.

Ericson is sure to meet all your aircraft construction lighting needs. Whether your lighting needs are inside or outside, our wide-ranging LED lighting solutions will fit your requirements best.
Written by: Dan Ericson


Dan Ericson is the Director of Sales for Ericson Manufacturing, a company that engineers and manufactures temporary power distribution and lighting solutions. He has spent 15+ years in the electrical industry and specializes in creating worksite efficiencies.
Back to all Power Distribution & Temporary Lighting Solutions Blog