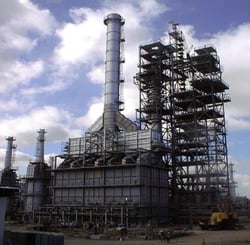 Do you have an upcoming maintenance project for boilers or fired heaters? Do you need to find simple, rugged lighting solutions that are highly portable, and provide excellent project lighting in these usually dark areas? With the size of the modern fired heaters on industrial sites, getting light to all the areas can be a challenge. We'll walk through four approaches to selecting the best lighting for the job.
String Lights
Do you have scaffolding set up for your boiler or fired heater/cracker? String lights are a great option to provide light more evenly over a greater area.
String lights are usually 50' or 100' in length, with 5 or 10 lights respectively, and a built-in connection point at each light. String lights are easily attached to the railings throughout the structure by using several string lights daisy-chained together. This allows for several work crews on site at once and eliminates the need to move lights around as work progresses.
There are different types of string lights, so be sure to choose what is right for your project.
Good: Commercial grade string lights for lighter duty or even one-use projects.
Better: Industrial duty string lights that use thicker cabling and materials
Best: New low-profile design industrial string lights for maximum life
In the first two, the bulbs hang down, so bulbs can more easily be damaged when bumped the workers or tools. The last option, low profile, has several advantages such as the ability to use with lower ceiling heights, and can be pulled through opening with less snagging.

Task Lighting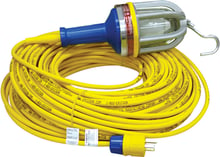 For a small area, another lighting technique is to use a task or hand lamp. The light can be closer to the work being performed and is easily moved around. Look for LED designs, which are more durable, since as hand lamps can easily be dropped. LED also saves energy and minimize bulb changes over the lifetime of the hand lamp. If using low voltage versions, then a single transformer base can supply a up to four low voltage hand lamps.
Wide Area Lighting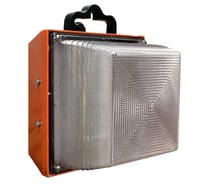 The most basic lighting technique is the use of a single large area light. One light, and your crews are off and running. These units often provide a high lumen output and newer models using LED technology are brighter.
For small areas, consider a portable light with a magnet back, for easy mounting on walls near the work area. For larger areas, consider an overhead mounted design with one or two lamps.

Emergency Egress Lighting
Finally, at the entrance to the furnace or boiler, consider an emergency egress light with battery backup, just in case. This gives workers a chance to exit safely should the lighting be disconnected from the power source temporarily. Designs with 90 minutes of run time provide plenty of time to exit the area safely.
It's not always a catastrophic power loss that causes an outage. Have your crews ever tripped a breaker or GFCI with their grinder or other tool? Sometimes a repeated outage like this occurs, and having an emergency egress light saves time and increases safety.
Safety is Our Standard
Whether you have a boiler at a power generation plant or a fired heater at a refinery or petrochemical plant, Ericson can provide a lighting solution for your maintenance project. Ericson products are designed with safety in mind, starting with our first safety hand lamp introduced back in 1918. Contact a lighting expert today at 1-800-ERICSON or visit www.ericson.com.