As we navigate the coronavirus (COVID-19) pandemic, one of the frequent challenges among healthcare workers and facilities is capacity. In order to treat the influx of potential COVID patients as effectively as possible, many organizations are turning to triage tents and alternate care sites.
Triage tents are a temporary structure outside the emergency department that provide two main functions. In some scenarios, they enable healthcare workers to assess incoming patients and direct them either to the regular intake desk (typical procedure during non-pandemic times), or to the emergency room for priority treatment.
As Rhonda Dixon, chief nursing officer at OhioHealth O'Bleness Hospital, explains: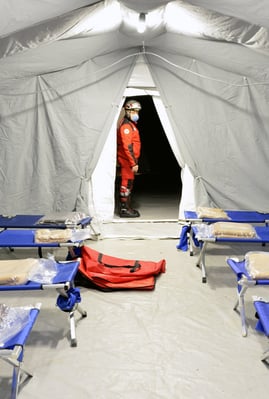 "That's to keep patients that don't need to be inside the hospital outside of the hospital. So if I'm sick and I've got a fever but am doing okay, you don't need to be in there; we can treat you on the outside…This will help limit the exposure to other members of the community and care team." *
Under more dire circumstances, triage tents serve the overflow of incoming patients, and act as an extension of the emergency rooms. The tents are usually temperature controlled and separate potentially contagious COVID cases from people that are either not exhibiting symptoms or at the hospital for a different medical condition.
Another strategy for meeting increasing healthcare demands is to set up alternate care sites (ACS). ACS are facilities that are spacious enough to act as temporary treatment sites, such as hotels, arenas, or parks, that typically have some (or most) of the needed amenities but not all. Creating an ACS often requires bringing in exterior equipment to ensure patients' medical needs can be served.
To properly function, both triage tents and alternative care sites need to utilize the proper temporary lighting and power solutions. Healthcare workers cannot satisfactorily treat patients if the space is not properly illuminated. Additionally, key equipment, such as ventilators, heart monitors, and other electronics, will not run without an adequate power supply.
It is important for these organizations to select rugged, durable products that are built with industrial and commercial environments in mind. As each tent and care site are different, it would also be helpful to purchase equipment that can be customized to different facility setups. String lights, for example, should be able to quickly be daisy chained together to the desired length, while a power distribution unit can appropriately power a variety of medical machines. Cable protectors should also be employed to avoid any damage in highly trafficked areas, especially those where stretchers will often be used.
As the pandemic continues, the need for emergency equipment to power and light temporary medical facilities is increasing exponentially. To improve the setup of these crucial areas, Ericson has created critical power and lighting kits with products that are bundled together for easier ordering. If you have any questions about what types of kits would best serve your medical needs, contact us at 1-800-ERICSON.
Source - https://www.athensnews.com/news/local/prepping-for-covid-19-triage-tents-go-up-at-obleness/article_375965cc-6c67-11ea-af84-17a5d27be3be.html