Hangers aren't just hangers...and lights aren't just lights
The aircraft maintenance, repair, and overhaul (MRO) component to any aviation business can no longer be thought of as just a covered work space. In an industry that's highly competitive, it's now critical to view your MRO facility as a key component in a strategy that maximizes assets including staff, equipment, and facilities. The pressure is on for maintenance staff to become more productive. But how can you improve efficiency in a labor market that is unionized and heavily regulated? How do you increase the efficiency of your aerospace workforce, while holding to key values such as quality and safety?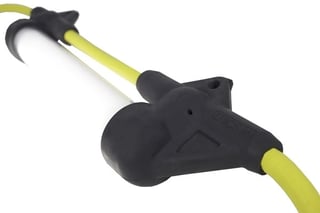 The answer is lighting...yes lighting. Remember, in today's MRO landscape, a facility isn't just a covered space, and lighting should not be thought of as just lighting. Specialized lighting is now a baseline requirement for success. You need not just lights but, a lighting solution. Your aircraft maintenance lighting should be portable, flexible and easy to transport and use. That's why Ericson created it's line of Linear LED Tube String Light.
Aircraft construction, maintenance and inspection are detailed activities, performed to exacting standards in challenging environments. To support this rigorous work, lighting must meet very high standards for illumination, portability, durability, compact design, and ease of use.
Many lighting solutions on the market present problems such as heavy, clunky lights that are difficult to transport or mount in the confined space of an aircraft fuselage. They also take up too much space, provide inadequate illumination and lighting color, and even contain sharp edges that can tear insulation and get caught on wiring and other important internal aircraft components.
Our linear LED string lights are perfect for an efficient, next level, MRO facility because they are portable, flexible and offer many advantages to the MRO worker. The benefits include:
Portable, flexible design for easy handling, insertion, and extraction
Total flexibility in positioning the product within the workspace
Simplified mounting/hanging alternatives. Eyelets can be paired with a variety of adjustable mounting hangers so you can get the most out of the lighting
Stand-alone or daisy-chain operation for incredible jobsite flexibility
Illuminate large areas with a single power drop freeing vital circuits for other essential activities
Field replaceable bulbs
Written by: Josh Ericson


Back to all Power Distribution & Temporary Lighting Solutions Blog