How do you get light in a dark tunnel? That was the problem a customer faced on a recent generator stator rewind project for a large turbine.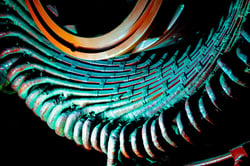 A stator is an important part of any rotary system. In terms of generators, it is the stationary part of the system that converts the rotating magnetic field to an electric current. Stator windings, typically copper, can take a lot of abuse during the power generation process and unfavorable operating conditions can dramatically shorten the life of the winding material. Which is why stators need to be rewound periodically. It is a tedious process that takes place in cramped spaces with little light.
The project required operators to conduct tests and repairs inside the cramped stator with the rotor removed, so they needed quality lighting inside. Barely able to stand in the stator, running into hanging string lights would be a pain, so they needed something low profile that would also give off proper illumination.

Enter Ericson's 813 LED Linear Tube String Light. The 813 has horizontal 1-foot LED tubes mounted to cable, so it doesn't hang down like traditional string lights. Each lighting system provides 1,440 lumens per lamp (typical configurations include 4, 8, & 10 lamps per string), in a low profile design which keeps lights out of the way of workers. Our customers used the built-in mounting holes to zip tie the lights to our magnet base hooks stuck on the stator ceiling.
To complement the system, we offered portable e-Carts®, to provide the 120 V power for the lights and tools they needed. The e-Cart® connected to a nearby 480V electrical service, transformed it down to 120V power, and provided a receptacle panel for the lights and tools. This eliminated a 'spaghetti' of extension cords running from remote receptacles and prevented voltage drop commonly seen in long runs of extension cords.
To round it off, we offered a compact 50 amp power distribution unit (PDU) daisy chained to the e-Cart® that provided receptacles at the opposite end of the stator.
Ericson's innovative lighting and power products answered every problem that our customer was looking to solve. Do you need help with your next project? Contact us!