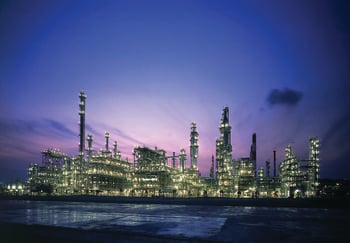 Hazardous locations, like those found in oil and gas refineries, are known for having strict standards when it comes to equipment.Not only this, but maintaining workplace safety can be an ongoing challenge. There is no doubt that safe and efficient temporary lighting and power equipment is necessary in environments like these. Read more to discover the 3 main reasons to utilize professional temporary lighting and power solutions for the oil and gas industry.
Savings
The correct lighting solutions can not only increase workplace safety, but it also can provide cost savings. By upgrading your refinery work sites to LED lights, you can create savings for both labor and energy. LED lights require less maintenance, last longer, and use a lot less energy than traditional lighting methods. While the upfront cost of LED lighting might seem higher, they are actually shown to pay off in the long run.
Not only do these lights save money, but they can be a great step to reaching your company's sustainability goals. In fact, when comparing LED lighting solutions to Metal Halide, LED lights use about 75% less electricity!
Oil and gas companies constantly face the challenge of maintaining 24/7 operations. Power system failures, even minor ones, can result in costly outages or loss of product. By utilizing professionally engineered temporary lighting and power solutions, you decrease the risk of this happening, hence an increase in savings.
Safety
Inadequate lighting is a major safety concern for workers. When thinking about your lighting system, you must consider illumination, uniformity, glare, and color rendition. Working in dim or darker areas has been shown to increase the risk of injuries and accidents. Further, color rendition index, or CRI, is very important, since low CRI makes it difficult to distinguish colors at the jobsite. For example, it's difficult to distinguish the red tag from the green tag on a piece of equipment when they both look purple under old sodium lighting. Because of this, correct temporary lighting is a necessity for a safe work environment.
In addition, the incorrect temporary power solutions can pose a serious safety risk to employees. For example, temporary power units without GFCI protection or unprotected cords can be the perfect recipe for disaster. By using professional temporary power solutions, you can help avoid accidents and costly OSHA fines.
Standards
When planning your temporary lighting and power, the area that you are working in determines the kind of products will be used. There are many different factors to be considered. The first is whether the area is considered a classified location per NEC Section 500. Consult your plant safety engineers to determine if your worksite is a classified location and if so, what class and division. Then be sure to specify only equipment approved for that type of location. This is the first and most important step in keeping your people and plant safe.
If the area is not deemed a classified location, then it is referred to as an ordinary location, and you have a lot more choices in terms of power and lighting system equipment. You need to choose components to satisfy OSHA requirements for wiring methods, components, and equipment for general use found in CFR 1926.405, also called subpart K. If the area is classified, you need to still comply with subpart K, and also CFR1910.307, Hazardous (classified) location requirements, also called subpart S. That generally means specifying explosion proof equipment and wiring methods.
Working in an oil refinery can present a range of safety issues. By utilizing the correct lighting and power distribution, you can help increase workplace safety and productivity. To learn more about hazardous location temporary power solutions, click here to watch our e Cart Explosion Proof Power Distribution Unit product video.