100 Years of Lighting the Job Site
Ericson Manufacturing Company was born in 1918 when our founder, Edward Oscar Ericson, received a patent for the first rubber hand lamp. This revolutionary invention made the job site safer for the workforce and set Ericson on the path to manufacture the safest and most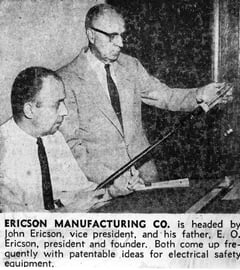 innovative lighting products in the marketplace.
Fast forward
100 years
and manufacturing safe, durable,
easy-to-use products is still at the heart of what we do - just take a look at our LED Linear Tube String Light and 910 Series Hand Lamps.
We are committed to providing the best workplace lighting that will last far past the competition and save customers time, money, and hassle. But that's nothing new - we've been doing it for a century.
Contact us today and let us know how we can help light your job site.